Previous workshop leader (2023)
The workshop leaders for 2024 has not been decided yet.
Below you can see which workshop leaders we had in 2023.
This way you can get an idea of the content for the Sexsibility Festival.
Some of the workshop leaders from 2022 and/or 2023 will also return in 2024.
Sexsibility Coach, Tantra teacher,
Wheel of Consent facilitator
Lorenzo Stiernquist from Stockholm, Sweden is a tantra teacher, Wheel of Consent facilitator, Sexsibility coach and the founder of the Sexsibility coach training and the Sexsibility festival.
In his work he focuses on consent, sexuality, intimacy, spirituality, pleasure and healing. He offers trainings, workshops, individual sessions, coaching and massage.
"BE WHO YOU ARE AND
BECOME WHO YOU WANT TO BE.
SAY YES TO LIFE!"​
Conscious Sexuality and
Somatic Sexual Education
Body Therapist, Sexological Bodyworker at the Instituto Latino Americano de Sexologia Somática, dancer, student and practitioner of tantric traditions. Trained as a tantric therapist at Centro Metamorfose (2012) and Escola Humaniversidade (2013).
Practitioner of non-dual Shaiva Tantra traditions, with Phd Christopher Wallis as main mentor. Since 2013, she has offered over 2,000 individual and couples sessions, as well as numerous courses, retreats and experiences.
Co-creator of the 5 Elements Neotantric Massage and the Conscious Sexuality methodology, a holistic and somatic learning approach to sexuality. She is currently dedicated to training people who want to offer sessions and courses on Conscious Sexuality with the aim of facilitating the development and regulation of an authentic sexuality and the encounter with the joy of living.
"I believe in the revolutionizing power of conscious sexuality"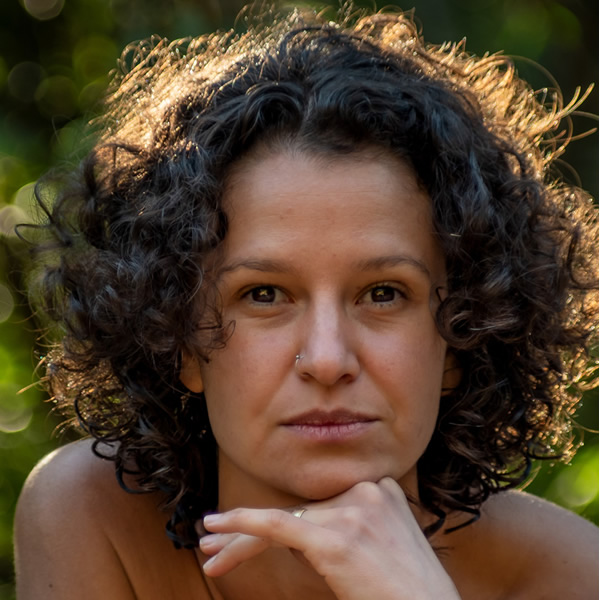 Matt is a German-born citizen who has been traveling and teaching around the world since 2010.
He is a trained facilitator in the fields of Sacred Sexuality and Tantra, and has been working with different healing modalities such as counseling, guided meditation, and bodywork, for over 20 years. His sessions and teachings are grounded in a background of trauma research and neurophysiology.
Matt considers himself a student of life, and finds himself inspired by everything that resonates with the key values of connection, transformation, and love.
He is developer of the Somatic Consent Engagement System, and has dedicated his life to guiding thousands of people through this evolutionary process in settings that range all the way from festivals, to workshops, to professional private sessions.
Body-Mind-Heart Connection
Beatriz has a gentle, affectionate, creative and body-based approach.
She facilitates experiences for those who seek to love themselves more, and to align body, mind and heart. She has been researching self-knowledge for 4 years, having trained as a facilitator of 'decision-making processes', and a practitioner of 'Deep Listening of Emotions' (Quantum Being).
Embodied practices such as dance and massage, as well as tools for self-expression and listening are part of her practice, which is based on theoretical and practical studies on anthroposophy, dance-movement-therapy, NVC, feminism and sexuality.
Body Painting, Kundalini Spanking
Calle Rehbinder have held almost 400 workshops & courses in the subjects of love, sex, tantra, intimacy, communication and personal growth since 2003 – in Sweden, Denmark, Norway, Germany and France, from big festivals to luxurious tantra workshops in French chateaus.
Calle has a vast experience inspiring people to more love, ecstasy and better relationships. His speciality is creating Magic Rooms, wherein the participants can feel safe to explore themselves and others – always on their own terms, by their own initiative.
Playfulness is a basic pedagogic principle, and many participants will testify to how much fun they had – and at the same time experiencing profound growth and development.
Since 23 years back, Calle also runs Cirkus Eros – an erotic website with articles, short stories, image galleries, reviews, workshop information – and more.
"Playfulness – the most efficient way to getting really serious"
MACUXIVA is a multimedia artist from Boa Vista/RR, resident in Stockholm for 20 years.
He is the creator and creature behind projects like Favela Viking, Voices of the body, Awaken Club, and one of the organizers of the Lifeful Festival.
From Amazonas to India, Sweden, and many other places, he collects elements of different influences to develop his unique personality and multifaceted artistic expression.
With his foundation in theater, contemporary dance, and yoga, Macuxiva has the ability to create magical atmospheres where we can feel unity and explore the spontaneity, creativity, and freedom of being ourselves.
"When the mind is silent, the heart speaks and the body flies"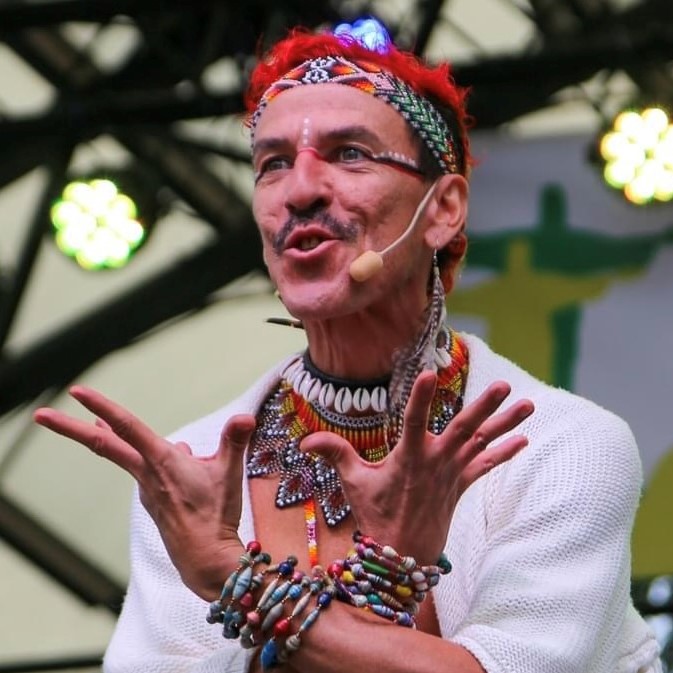 Tantric therapist and conscious sexuality
The main tool Marcos Bina uses at his individual sessions, workshops and retreats is LOVE. Through loving and compassionate guidance he will lead you to connect back to your body and to feel again your emotions.
As a gay man, sexuality was always a focus in Marcos's personal and professional studies. Since 2020 Marcos participated in, worked, and led several works related to conscious sexuality in Brazil and abroad (Sexsibility Sweeden, Corpo Selvagem de Amor, Borderland, etc).
One of his purposes in life is to help men to reconnect with their emotions so, since 2021, Marcos has been leading the course and retreat Travessia. More than 250 men who want to live a healthy masculinity have already attended to it.
Marcos Bina is a graduated therapist at Tantra, ThetaHealing, Feldenkrais, and Quantum Being besides being an Engineer and Administrator.
"Love is the way not a destination"
Renê began his healing journey at 12 years old when he was initiated in Reiki. Having graduated as a physiotherapist in 2006 and had his master's in 2012 both at the University of São Paulo, he in addition specialized in Traditional Chinese Medicine and training in tantric therapy. He was part of the first certification at Centro Metamorfose (2012-2013 with Prem Samit), which gave rise to the training classes at the Centre.
Renê works nowadays integrating the techniques he acquired. The therapy seeks deep relaxation for healing and releasing trauma from the physical and emotional bodies. Using breathing, meditation, and therapeutic touch technics. Thus achieving acceptance and conciliation with the history engraved in the body.
Physicanalysis is what he calls his job nowadays.
Bianca Torres is a trauma-informed holistic sexuality mentor & educator, pleasure activist, facilitator of workshops & trainings online and around the world, Tantra specialist, yoga teacher, lover of life, and seeker of Truth.
Her work unites knowledge from East and West, in a mystical marriage of the ancient wisdom of tantra, Taoism, yoga, and mindfulness with the science of the neurophysiology of pleasure, erotic anatomy, pelvic floor health, and conscious sexuality.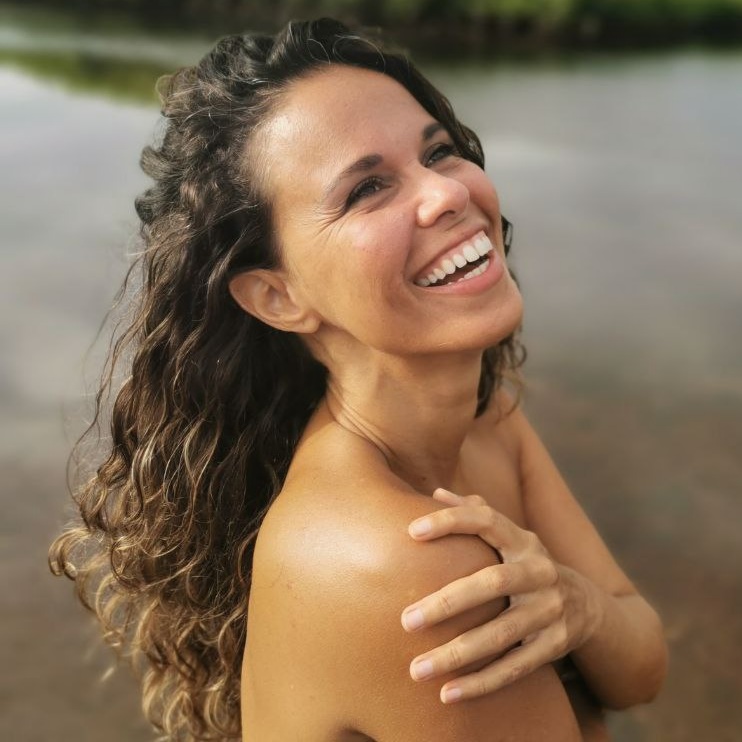 revolutionary spirituality
Sah is a physical therapist, acupuncturist and dancer. Through practice as a therapist, then has developed an approach to integrating body, mind, health, spirituality and sexuality.
Then has a broad background in dance, somatic education, health, tantra, self-awareness and sacred sexuality.
Being a medium since he was a child, then has developed ways to enter ecstasy through his daily activities that include his sexual expression.
Their courses are the integration of this practical knowledge with the theoretical contribution of tantra and non-dual spirituality.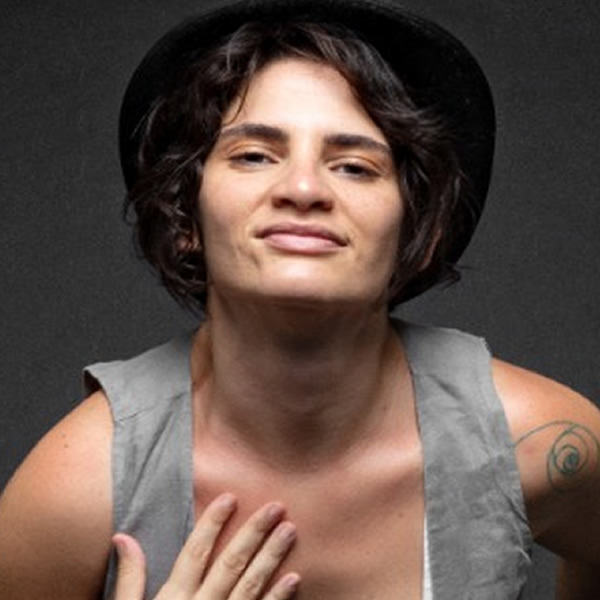 Founder of Orgasticah, a queer non-monogamous community event, erotic artist, independent porn-activist and internationally experienced media arts-educator for over 15 years, Lu Lovelight is a Master of Media and Communication who has specialized in PhotoTherapy with a transpersonal psychology approach – a practice of self-development based on our relationship with images and symbols, establishing a creative pathway for personal and collective transformation.
Known for their contagious laugh and loving nature, they will be at the service of accessing the gateway of your deepest desires, enlightening imagination and most authentic pleasure through their workshops, organizing the last evening's celebration and co-hosting the festival's community meetings.
"Creativity, joy and affection for all"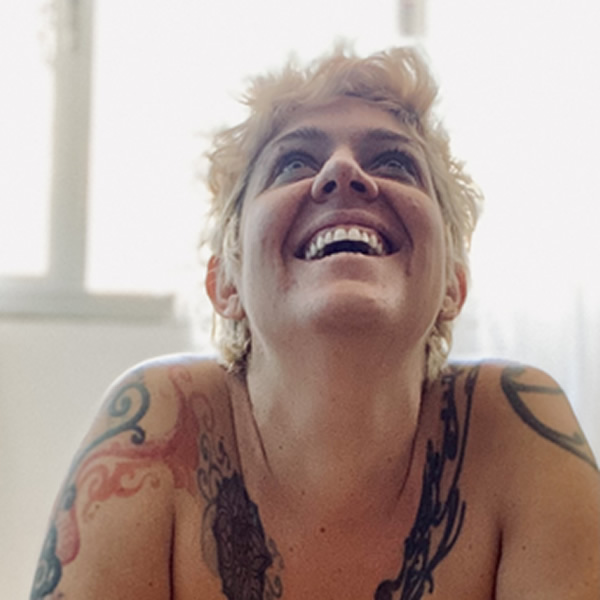 Ron Oren was born in Israel and after living on the road facilitating workshops around the world he is currently living in Brazil.
In his search for evolution and self-mastery, Ron passed through many profound and intense initiations of spirit, heart, and body. Ron in Hebrew means happiness, Integrating joy of life, dance, and profound studies of the mystery schools Ron guides individuals and groups in the path of awareness and love. His work includes sexual shamanism, deep emotional wisdom Quantum Being, human evolution through dance and movement, and much more.
Ron is a certified facilitator of Biodansa, Master teacher of ThetaHealing, Co funder of Quantum Being, apprentice in the ISTA school of temple arts, and together with his wife Raquel Minako and partners, he is leading the tribe Corpo Salvagem de Amor in Brazil and the world. As Ron says "I invite you to dance together"
"Beyond de right and wrong there is a field. I will meet you there!"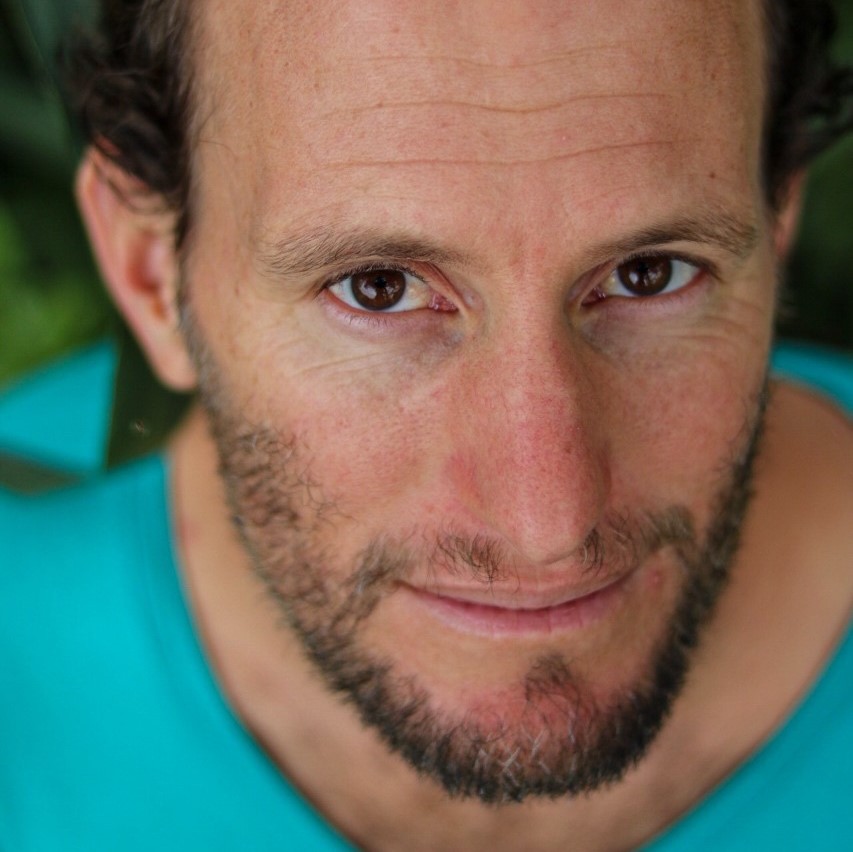 Maurício Câmera has been a yoga teacher for 6 years, with training and in-depth knowledge of Hatha Yoga traditions.
Focused on health with a holistic view encompassing the different layers of the body to bring deeper and true well-being. The health of the physical body is just one element that is worked on in the Yoga class taught by Maurício, the pursuit of mental, energetic, and emotional health is the path traced step-by-step in this sensory journey.
"Health care of body, mind, emotions and energy."
PORNOGRAPH AND PERFORMER​
Paulx BixaPuta (1989, São Paulo) Fag non-binary artist, pornographer, performer, and positive.
Graduated in 2012 with research in fashion anthropology at Senac São Paulo, studying how clothing binarism can be used to break cis-centric binarism. In 2014 moved to Buenos Aires where lived for 3 years, and post-graduated in Combined Artistic Languages at the Universidad Nacional de las Artes.
They have been working with performance, political sexuality, and imaginary hacking since 2013 and have been exploring the possibilities of body and dance in pole dance since 2017. They are part of EdiyPorn, a deviant pornography producer created in 2019, which seeks to mess with the logic of the production and consumption of porn.
"Pornography is a too potent weapon to be left in their hands."
Paul Preciado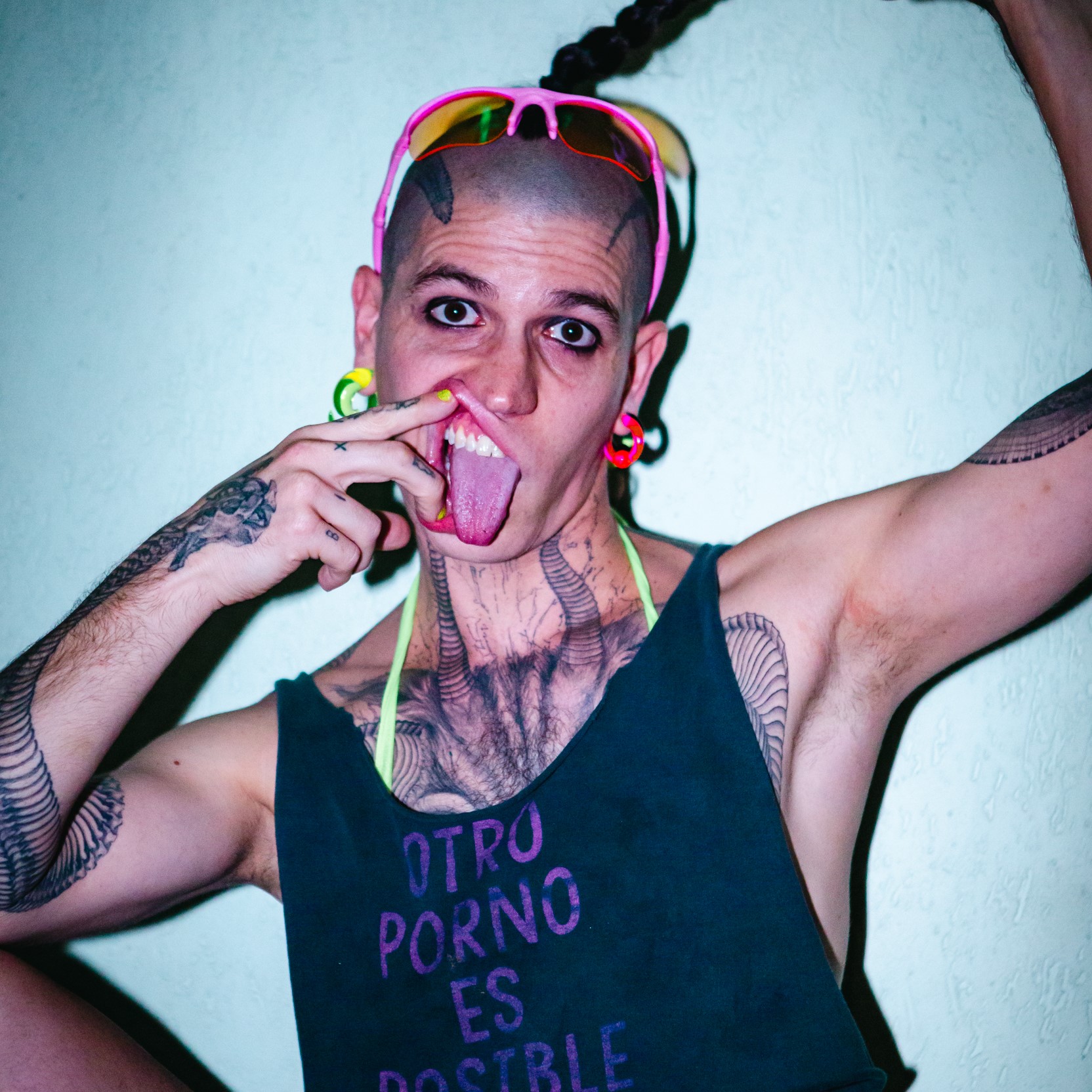 Alice Lamuse is a Somatic Consent Ambassador in Brazil. Her research deepens themes such as Sexuality, Power Dynamics and Consent.
Alice seeks to authentically share her own personal experiences by facilitating 1:1 sessions, group workshops, and organizing SexPositive events such as Sexsibility.
Her purpose is to support the expansion of positive sexuality in Brazil and in the world, especially through Somatic Consent work.
Tiago Brumatti is a Somatic Sexologist (Sexological Bodyworker ®️), entrepreneur, Founder of Somatic Tantra.
Represents international training in Sexological Bodywork in Brazil.
"Allow the trust and power of the body"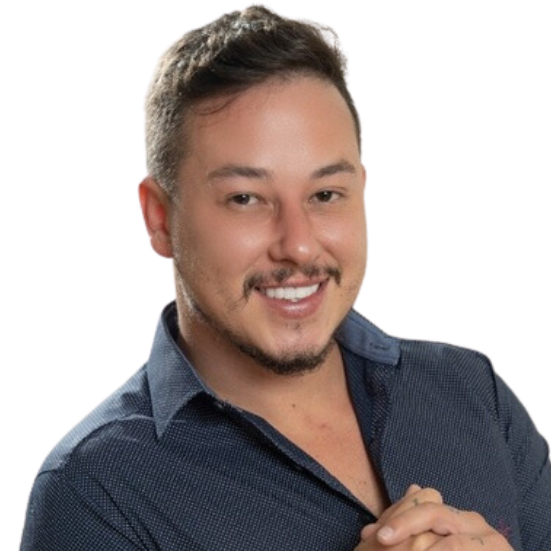 Cristiana Bolli is a Somatic Sexologist (Sexological Bodyworker ®️), founder of Orgasmic Yoga for all ®, entrepreneur and representing the Somatic Engagement System® in Switzerland.
"Your body holds the key to what matters."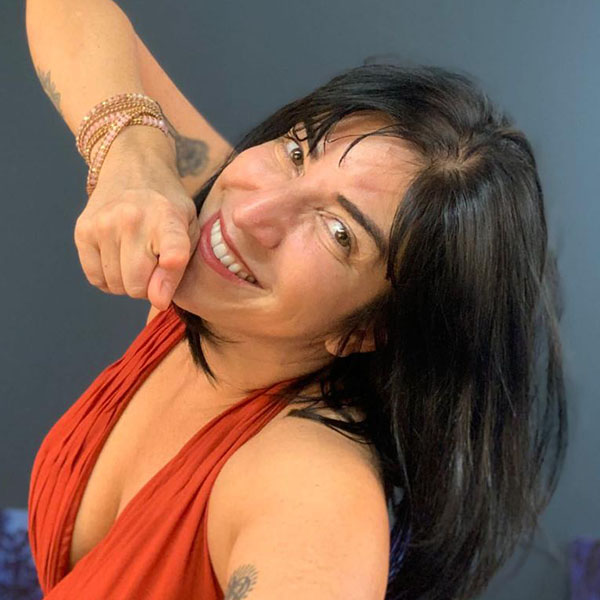 DJ, Musician, facilitator and co-creator of festivals and events of conscious celebration, brings in his electroorganic sets the culture and spirituality present in Brazil and in the world.
He is a member of EDBr-Ecstatic Dance Brasil, co-creator of the pioneering festival in Brazil about conscious sexuality "O Corpo é uma Festa!" (2017/18/19) at the Terra Una ecovillage, in addition to facilitating Consent Labs and other somatic experiences.
With a wide musical experience, Manoh has already played in festivals and venues such as Universo Paralello 2023 (Pratigi/BA), Casacor 2022 (Vitória/ES), Festival Iris (Pq Lage – Rio de Janeiro/RJ), Tikkal (Algodões/BA ), Vodoohop 10 years at Cachoeira 2019, Sexsibility Festival 2022 (Piracanga/BA), Casa Astral (Recife/PE), Espaço Mova (Rio de Janeiro/RJ), Casa AmarEla (Salvador/BA), Cultura ReLuz (Vitória/ES ), Ibirapuera Park (São Paulo/SP), among others.
"TRANSFORMATION THROUGH SELF-CONSCIOUS EXPRESSION,
THROUGH ART AND AFFECTIVE RELATIONSHIPS."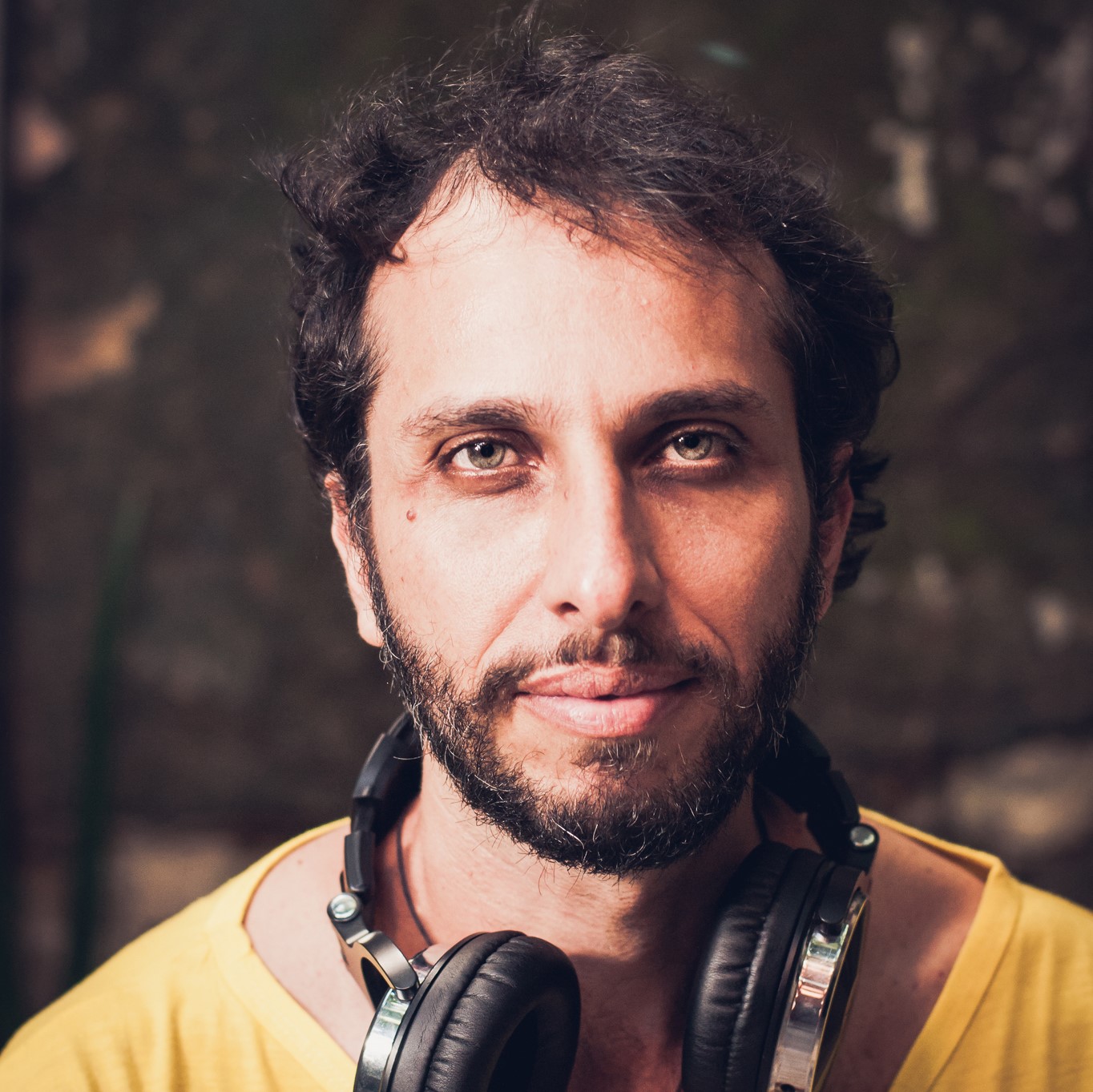 Jeyda creates warm, relaxing environments, where we can feel safe to simply stop and be.
She found her gifts in space holding and mentoring during her role as Volunteer Coordinator at Angsbacka, home of Sexsibility Sweden. Here she facilitated workshops for over 100 volunteers across the summer festival season.
She is an active student of consent, communication, conscious touch & shamanic wisdom for over 4 years and is an apprentice in Zen Coaching & Embodied Dance Teacher Training.
She is devoted to being of grounded loving service for all & enjoys creating spaces to connect deeper in vulnerability, authenticity & truth, to ourselves, each other & the planet.
She welcomes you all to explore deeply & intimately in consent & movement over the coming days.
"Vulnerability: To see and to be seen.
That is the truest nature of love."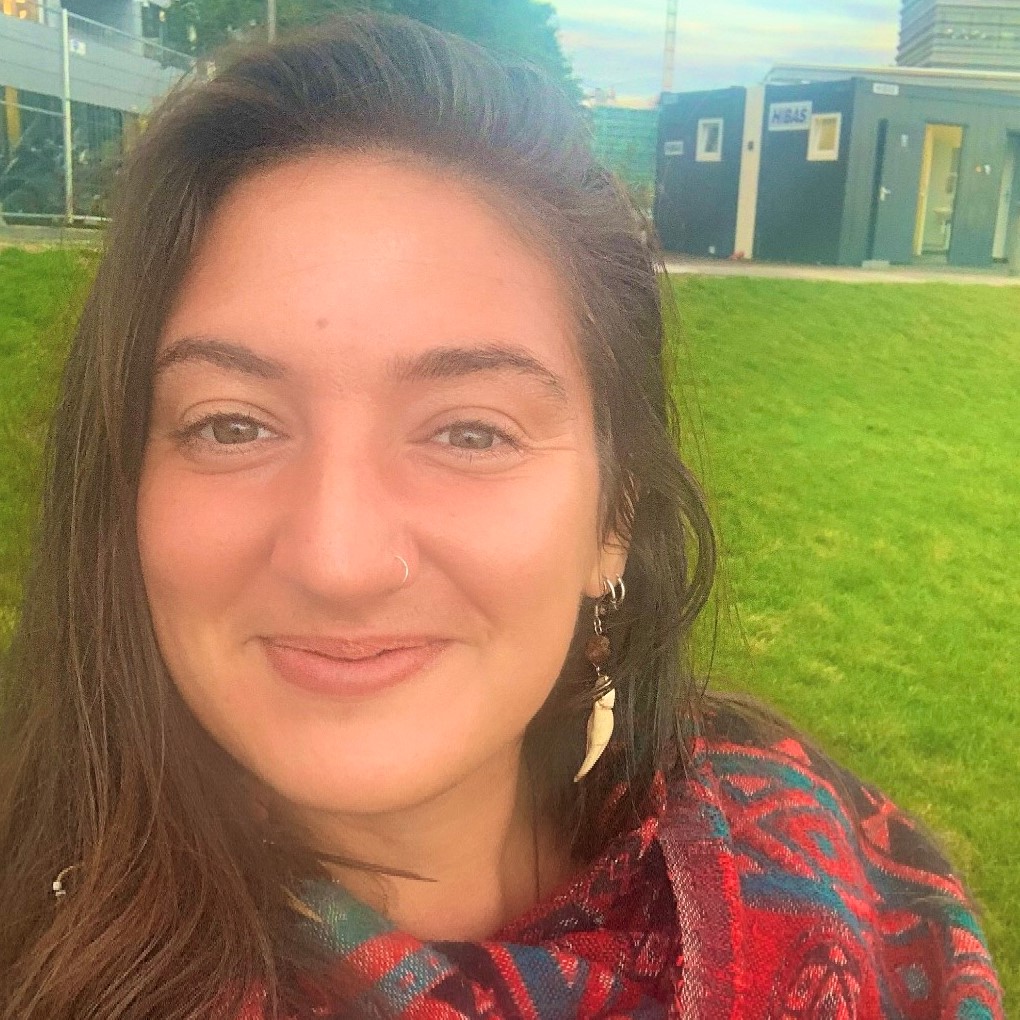 Eduardo Alexander is a Health Architect, and his mission is to project ways of achieving Sustainable Health.
After more than 20 years as a practitioner of Daoist Alchemy and Chinese Medicine has achieved a unique synergy of a meditator, therapist, and scholar skills. Ph.D (UERJ and Boston University) In Collective Health, Health Promotion in Chinese Medicine, and Health and Sexuality in Daoism.
Founder of 5 Fulness Center of Health Education Ph.D in Collective Health: Health Promotion in Chinese Medicine and Daoist Alchemy (Rio de Janeiro State University and Boston University) Therapist in Private Clinic (Chinese Medicine and Reichian Therapy).
"I don´t know why nobody told you how to unfold your love."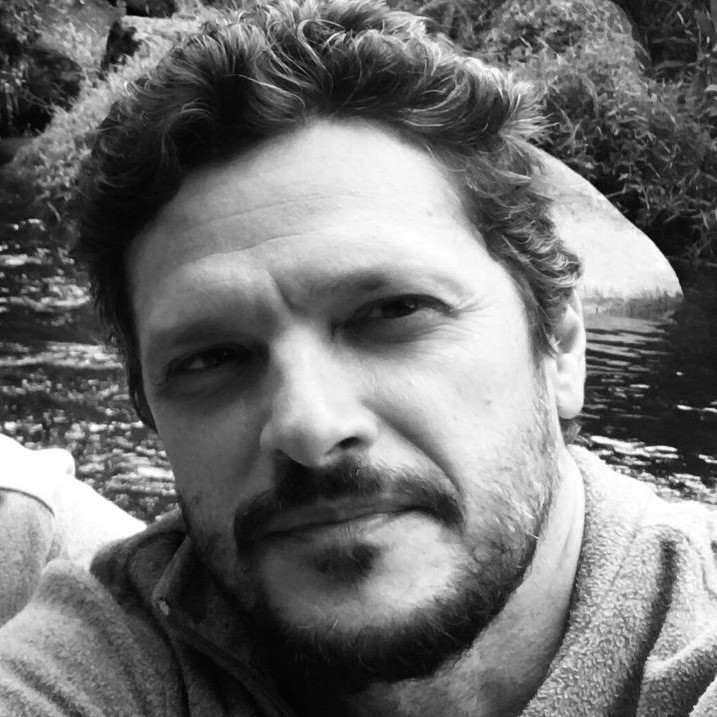 Dance Artist, Yogini, Facilitator of Pleasurable Experiences, Creator of the Libido Festival, and conducts Sexual/Somatic Education mentorships.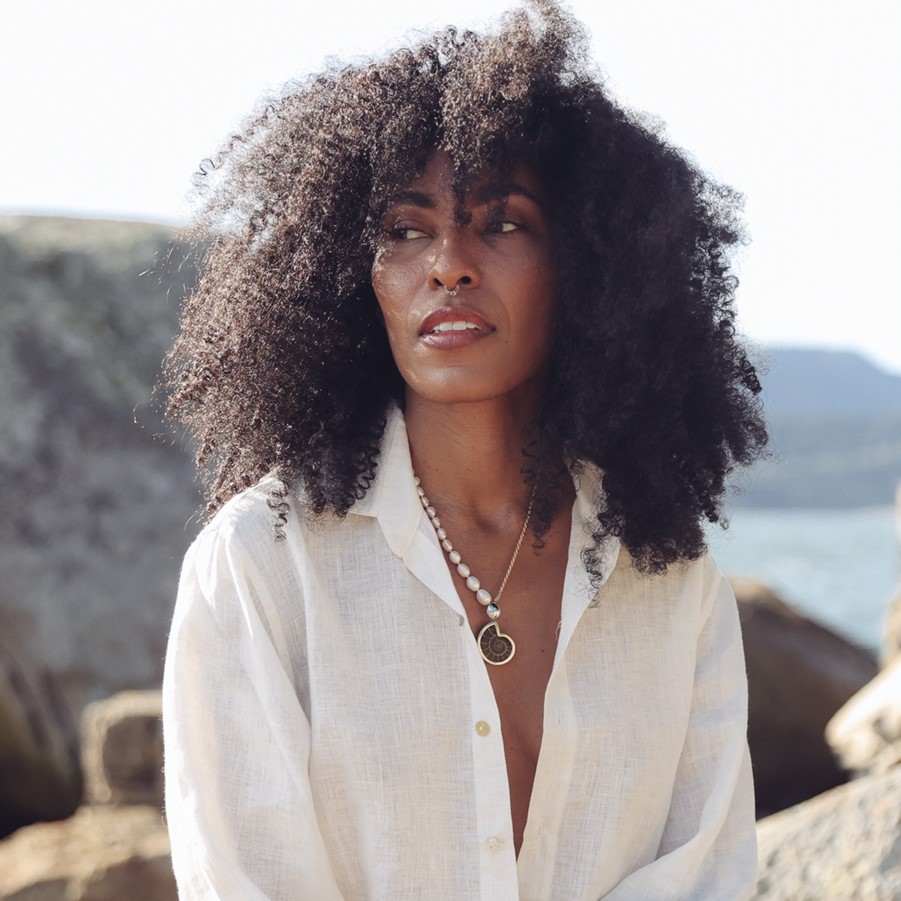 Ana Paula Stock, known as Rope Phoenix in the world of Shibari and BDSM, is a body therapist specialized in Lomi Lomi (massage of Hawaiian culture). She has been applying Lomi Lomi's philosophy and quality of connection to her rope practices since 1917. She is an educator, rigger and model, and does performances and private sessions.
In 2019, founded Wabi Sabi, the shibari group in Rio de Janeiro, director of EntreCordas, Atados no Parque, and numerous artistic productions.
"The worlds best place is here and now." Gilberto Gil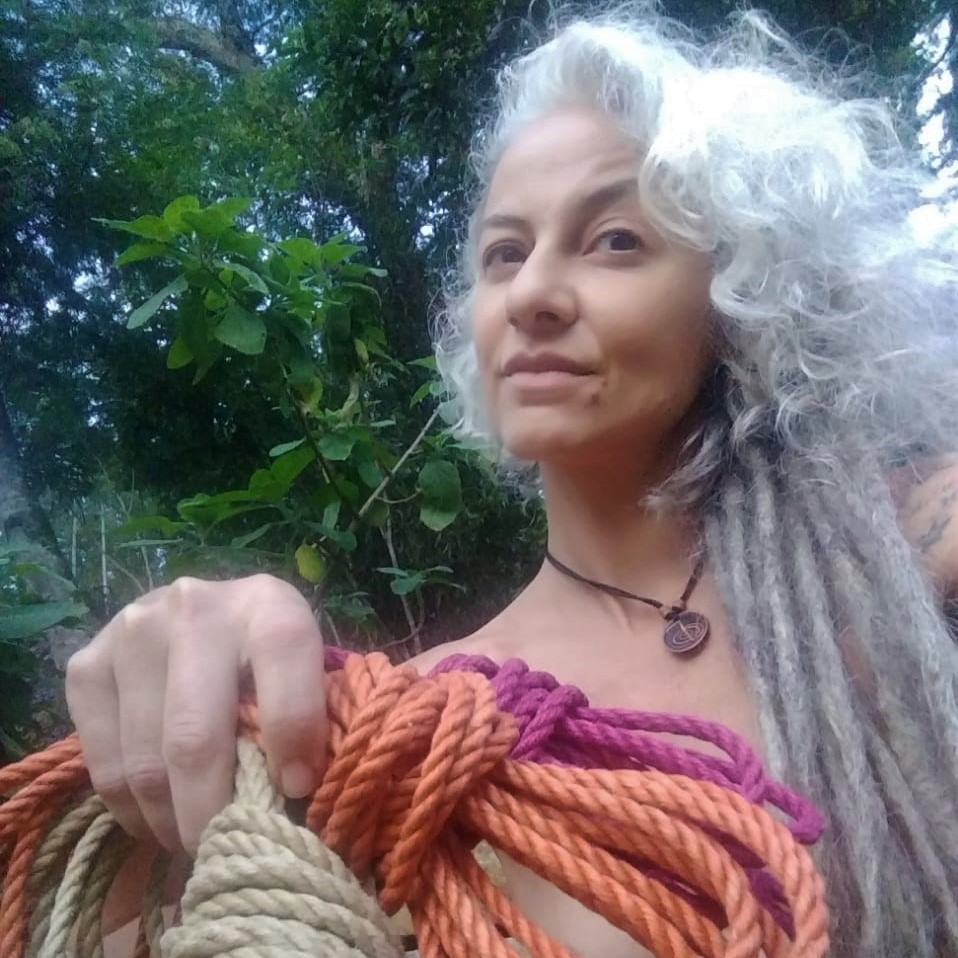 Gael acts on their mission in order to make the world a safe place to Be and express who we are.
Through art, relationships, and communication. Singing, acting, and facilitating healing processes, Gael navigates the world, loving.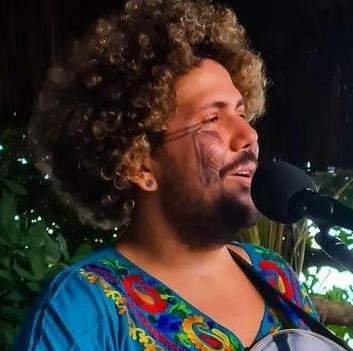 Pornoperformer, yogi, dancer. Part of the Deviant Porn Production Company Ediyporn.
A researcher of the pleasures of body restraint with ropes, since 2019 has shibari as the center of their sexual and performance research.
With the pandemic, their focus shifted to the intensification of internal feeling through yoga and self-tying as a way to provide turn-on and affection.
"My goal is my infinity, which half is me
and the other half is the beyond me" - Gilberto Gil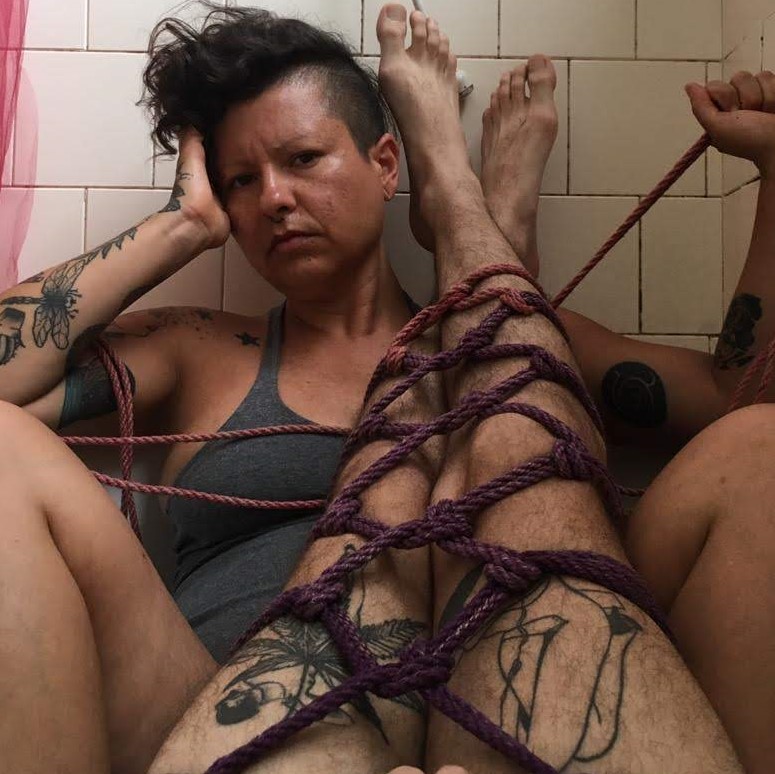 Self knowledge, Art & Authenticity
Alessandra is a nomad, storyteller, character creator, poet, and traveler of fantastic and fascinating universes.
Since 2016, she has been exploring the various paths of self-knowledge – from the most rational and pragmatic to the most subtle and playful, to manifest her true essence in the world.
Along the way, she acquired tools such as functional mindfulness, yoga dance, and somatic consent, among others, which she now uses to facilitate workshops and experiences with the goal of helping others live life in a lighter and more authentic way.
It was in this exploration that she created the practice of Freedom Flow.
She also produces events such as Sexsibility, with the purpose of bringing more awareness to important matters in life that are often distorted, ignored, or forgotten. It was with that same focus that she founded WE.Concious Events, which brought to Florianópolis in 2022 the incredible party of conscious sexuality: The Play Party "Aristocracy of Desires".
"FREEDOM TO FEEL, BE AND EXPRESS IN THE WORLD
WHAT MATTERS To tHE SOUL."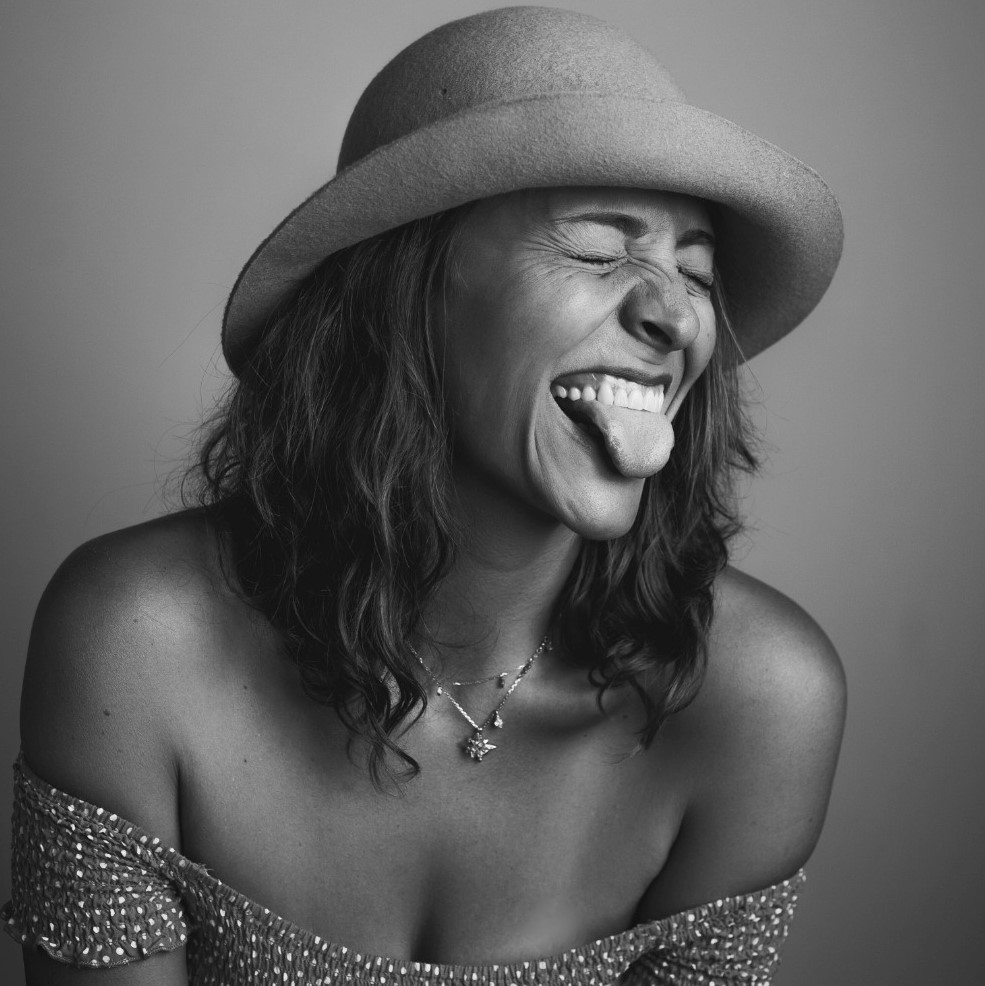 On the last evening we will have an amazing party.
An artistic arena of erotic expression.
With dj's and performers, we will bathe in pure pleasure,
where all genders, sexual orientations and desire spectrums are welcome.
So, come to the Sexsibility Festival,
dress up and let your most authentic erotic version shine.
Read more >>
More workshop leaders coming soon